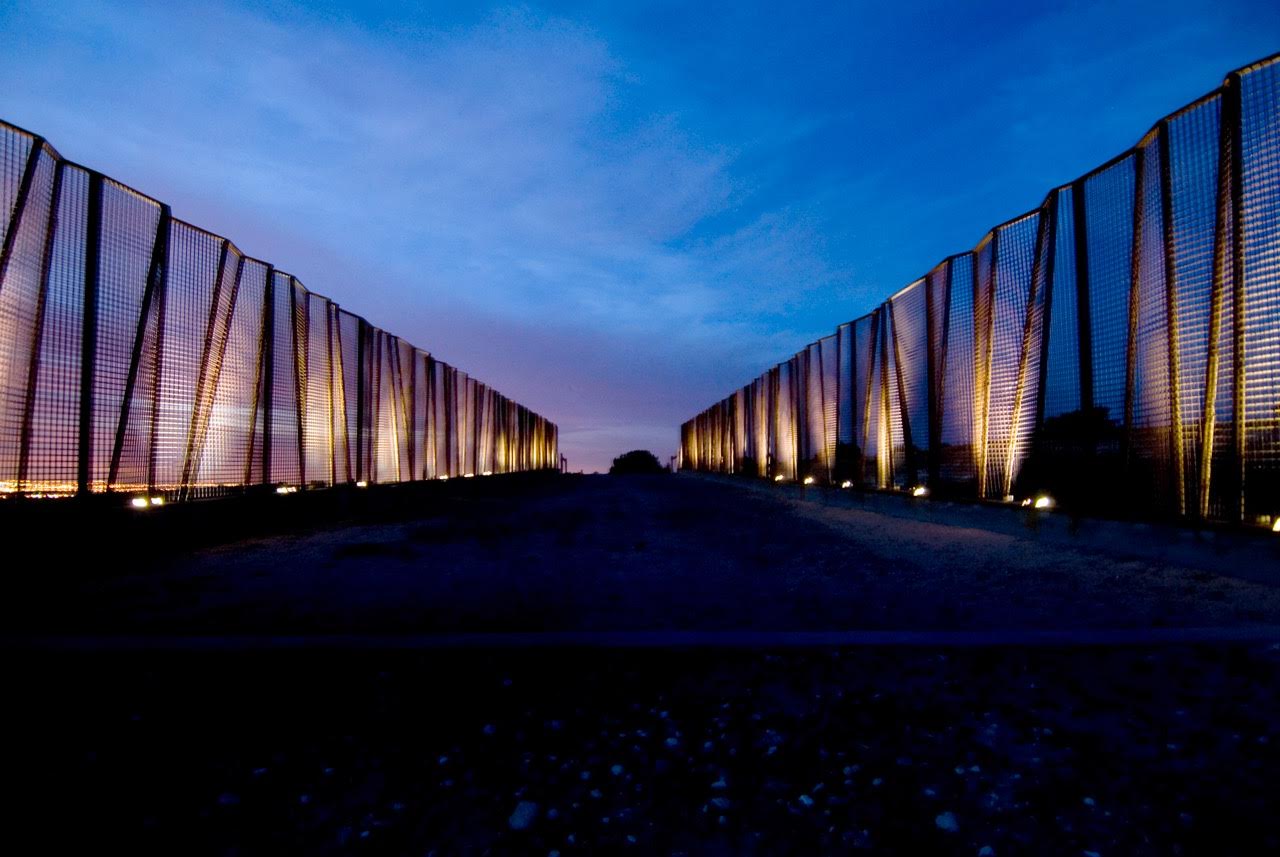 Illusion of Place, Albuquerque, NM
Through a variety of enhancements within the Petroglyphs National Monument (color tiles, landscaping, etched stainless steel images, accordion walls, light boxes, and a lighted pedestrian land bridge) Illusion of Place strives to create a new chapter in the monument's history that while different, does not deny its past.
Torre de la Flores, Northgate Transfer Station, El Paso, TX
In Northeast El Paso there had once existed a tall blue pyramidal structure built to announce the Sunrise Shopping Center. Until it was torn down, it served as a major landmark and icon of Northeast El Paso. Finding inspiration in the lore of the blue icon, Torre de la Flores celebrates the fields of poppies that cover the surrounding hillsides in spring with over 600 yellow disks that move freely in the wind.
Photographs by Brian Wancho
Ring of Fire, Bellevue Community College, Bellevue, WA
Ring of Fire is a gazebo whose ceiling hosts an elegant flowing-lava design. Daylight highlights the design as the sun casts the ceiling pattern shadows onto the plaza. At night, light illuminates the lava pattern with strategically placed spots lights.
Photographs by Dick Busher
Meditation Room, Doernbecher Children's Hospital, Portland, OR
Meditation Room is a numinous environment with light entering the room through a gold leaf screen tints the space with yellow, blue and green bo leafs. Looking up the visitor beholds a geometrical pattern of converging lines and concentric circles, while a third ephemeral pattern is projected onto the floor echoing the mandala of the ceiling.
Photographs by Richard Stode
Meditation Chapel, Hope and Healing Center, Memphis, TN
Viewing the Meditation Chapel from its exterior, visitors perceive the intent of the work through gold colored aluminum panels hosting lighted lotus designs. The panels are also experienced from the interior, where another lotus pattern (a symbol of healing) is projected onto the floor.
Photograph by Dick Busher
Euphonic Metaphor, Downtown Seattle, WA

Euphonic Metaphor was an installation created by stretching 60 miles of monofilament fishline every 1/4" across a lower and upper balcony of an atrium in downtown Seattle. This resulted in two ephemeral blue planes that hovered above the atrium space.
Photographs by Dick Busher
Illusion of Place, Paseo Del Norte, Albuquerque, NM
When driving through the Petroglyph monument the design of the road reveals that one is traveling through an out of the ordinary place. We did this through a variety of enhancements that includes light boxes strategically placed within roadway retaining wall.
The design of the 8 different light boxes were based on signature details of the wildlife in and around the monument. The colorful design patterns fade as night approaches and actual images of the specific animal become illuminated.
Our intent was for this new chapter in the monument's history to be a chapter that while different, does not deny its past.
Photographs by David Nufer